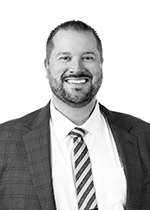 Tel: 303.831.5990
Fax: 303.832.7144
wtaylor@cwfd-law.net
Winslow Taylor was not born in Colorado, but he has called Colorado home since his parents brought him here at the age of 5. As an undergraduate, he attended the University of Northern Colorado, graduating in 2009 with a B.A. in History. After taking some time to coach high school baseball, he attended the University of Denver Sturm College of Law, graduating with his J.D. in 2013. While in law school, he was a member of the University of Denver Water Law Review. After graduation, Winslow served as in-house counsel for a title insurance company before joining a highly-respected local insurance defense firm where he focused on bad faith litigation, litigation under Colorado's Governmental Immunity Act, coverage investigations, and led the firm's appellate practice. Winslow joined Campbell, Wagner and Frazier, LLC in 2023 as a partner and continues to focus his practice on civil litigation, insurance coverage, bad faith litigation, and appeals.
During his career, Winslow has successfully tried multiple cases to civil juries, both in federal and state courts, and has represented clients in private arbitration. In addition to his record of successful litigation, he has also effectively represented clients in the appellate process, briefing and arguing cases for the Colorado Court of Appeals, the Tenth Circuit Court of Appeals, the Colorado Supreme Court, and the Wyoming Supreme Court.
Representative cases:
Chavez v. Arizona Automobile Ins. Co., 947 F.3d 642 (10th Cir. 2020)
Giron v. Hice, 519 P.3d 1083 (Colo. App. 2022), granted, 22SC671, 2023 WL 2159655 (Colo. Feb. 21, 2023)
Cribari v. Allstate Fire & Cas. Ins. Co., 861 Fed. Appx. 693 (10th Cir. 2021).